Our Community
Diabetes is relentless and unpredictable.
Our hope is that InsuJet can help you live an unstoppable life. These personal stories from the people empowered by InsuJet show how needle-free technology can give you the power to change how you live with diabetes.
Share your story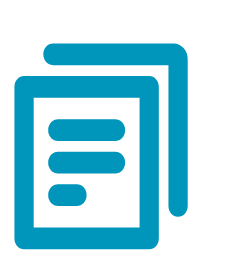 We listen to your feedback and suggestions to create the best possible needle-free experience.
TAKE THE SURVEY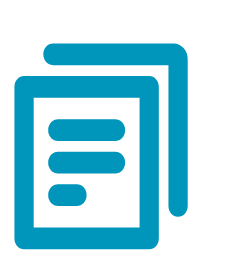 For user of the InsuJet V5 we ask key questions about the device and your experience using it. This helps us understand how to improve your injection experience.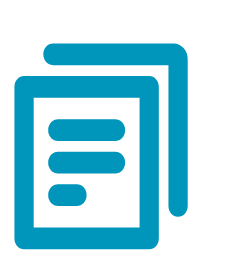 Join our community and share your experiences with the InsuJet. Let others know about what particularly you like or dislike about injecting needle-free with InsuJet! Leave a picture so we can add your story to the website and social media.
TAKE THE SURVEY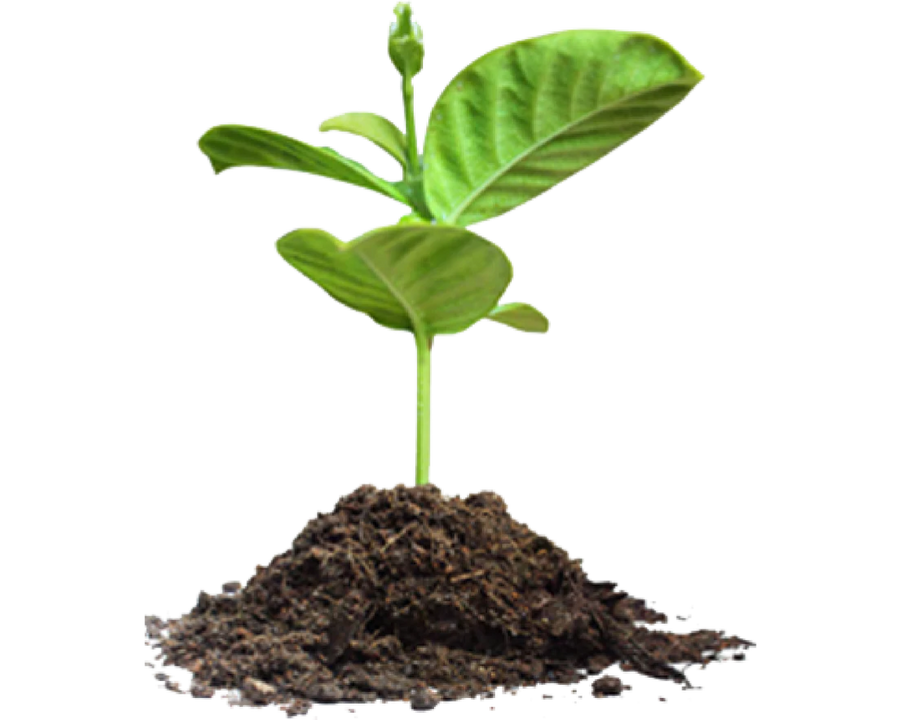 Go green. Go InsuJet.
When you switch to InsuJet, you're helping the planet, too. Used needles are a massive environmental concern. In the US alone, 7.8 billion needles are disposed of on an annual basis– and most are for insulin use. 
To fight this, we must push back on the use of single-use disposables. Every individual who switches to InsuJet reduces the waste of more than 1000 needles per year! This means a massive reduction in biohazardous waste, and the added environmental cost of its collection.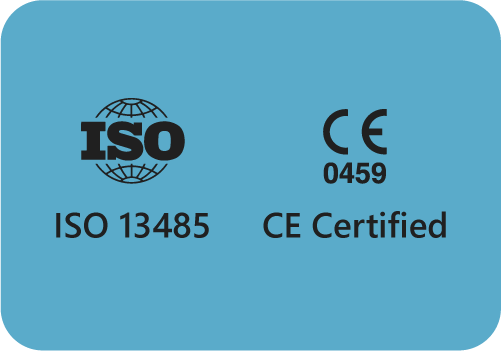 Building innovative products requires working with world-class manufacturing partners and skilled employees. Our suppliers operate some of the most technologically advanced manufacturing facilities on the planet, designed to perform at the level of precision and quality necessary to build our products.
To maintain the highest level of conformity of our processes, we have implemented a Quality Management System that complies with ISO 13485:2016, which stipulates the requirements for medical device manufacturers and its suppliers to design, produce, store, distribute and dispose of medical devices. Our QMS is certified by our Notified Body, LNE/GMED, ID No. 0459. The InsuJetTM needle-free administration system is certified under MDD 93/42/EEC (until October 26, 2024), and currently under assessment of EU MDR 2017/745.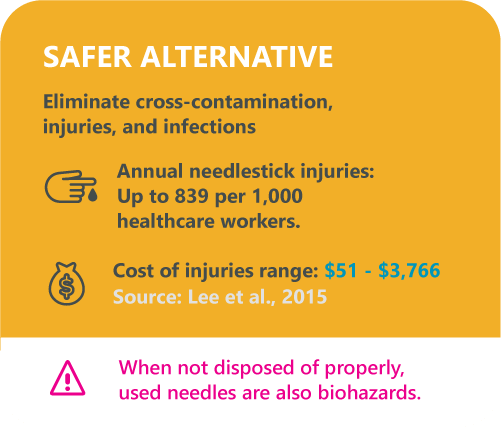 Our mission is to help create a medical environment that is safer for everyone– where needle-stick injuries are a thing of the past. 
To ensure the InsuJet is safe to use, our device comes with an important safety feature, which is the counter-pressure release mechanism. This mechanism is designed to only release when it is intentionally pushed with the front of the device toward the target administration site. This prevents accidental firing and makes the device safer to use than other needle-free devices on the market without this feature.
Beyond making insulin delivery safer for individuals at home, we're dedicated to improving safety in hospitals and other healthcare settings. Needle-stick injuries in medical facilities can lead to emotional stress for healthcare workers due to the potential exposure to chronic and hazardous diseases like Hepatitis B and C and HIV.  
Hospitals and clinics are required to provide safe medical devices to not only their patients, but also to their staff, in order to provide a safe and low risk work environment. Just like medical device manufacturers, they are required to reduce risks to the lowest possible levels. This means that they need to provide safe alternatives to needles if available. Needle stick injuries with insulin delivery devices are the most common of all needle-stick injuries, and can be avoided with the InsuJet.
We commit to continue improving the safety of needle-free technology by committing to the best practices in Risk Management, Clinical Evaluation, Usability Engineering and Post Market Surveillance. We conduct Post Market Clinical Follow up studies to actively collect feedback on the clinical performance of the devices in the market, so that we can continue to improve, making needle-free technology better and safer with every generation of devices.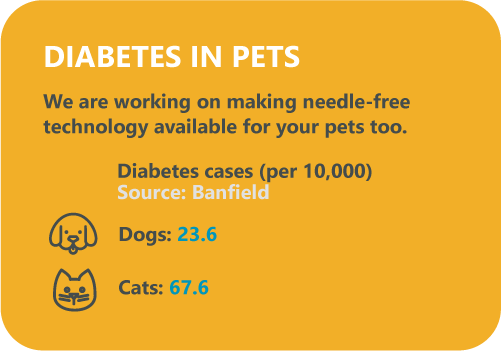 The InsuJet team and our suppliers are held to the highest standards of labor and human rights, health and safety, environmental stewardship, and ethics.
We take care of our employees, striving to create a collaborative, enriching environment where all team members can contribute, grow, and innovate together.  
We take care of our distributors, who are our most important link to the end-users of the device, helping to make our device available globally, and provide you with guidance and support along the way. 
And, of course, the whole reason we are here is to take care of you: our customers and our early adopters, who are part of the growing needle-free revolution right alongside us.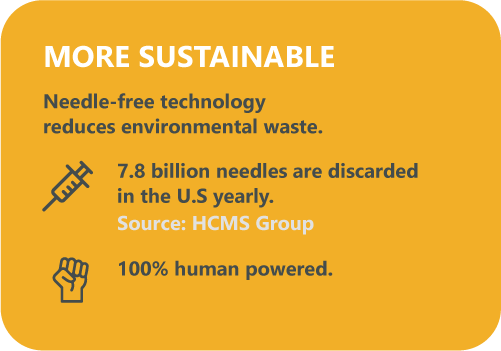 We take sustainability seriously. Reducing the environmental burden of single-use needles and biohazardous waste is one massive and essential component of this commitment. But it's not the only one. 
Sustainability is at the forefront of what we do. This is why we built the InsuJet to be durable and reusable, in contrast to all of the single-use disposables still unfortunately common in the medical industry. 
The InsuJet needle-free injector is spring-powered, which is more sustainable than gas-powered alternatives that are on the market. The spring can be reset by simply winding your device, so the energy needed for every injection is provided by you! No additional or external devices are needed. 
Our devices are built to last, and we warrant that our devices are free of defects under normal conditions of use or storage and within the indicated lifetime and expiration date.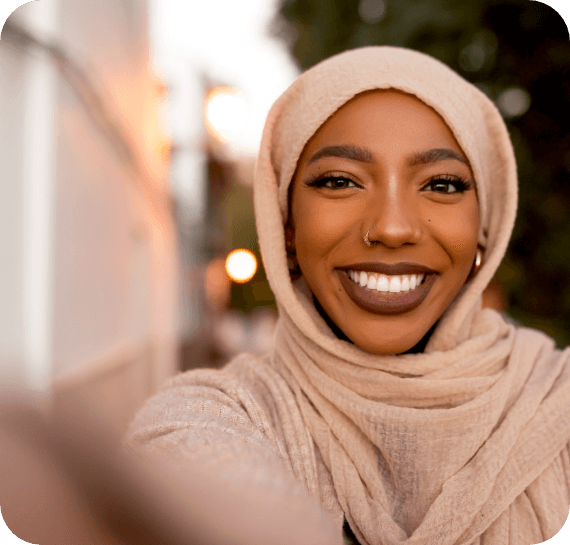 Join The Community.
You can make a difference to join InsuJet and help life-changing experiences happen.
Disclaimers:
01. Compatible insulin types: Human and animal; Fast acting insulins (bolus); Rapid Acting Insulin Analogs; Regular Human Insulin; Basal insulins; Intermediate-acting, commonly: NPH/ Isophane; Long-acting, commonly: Glargine, detemir, degludec; Premixtures (e.g. 30/70).
02. In a user survey, 78% of respondents answered they would recommend InsuJet™ to others.
03. In a user survey, 40% of the respondents answered they noticed using less insulin.
04. Needle-Free Jet Injection of Rapid-Acting Insulin Improves Early Postprandial Glucose Control in Patients With Diabetes. Diabetes Care, October 2013.
05. Body mass index and the efficacy of needle-free jet injection for the administration of rapid-acting insulin analogs, a post hoc analysis. Diabetes, Obesity and Metabolism, July 2012.
06. Improved Pharmacokinetic and Pharmacodynamic Profile of Rapid-Acting Insulin Using Needle-Free Jet Injection Technology. Diabetes Care, August 2011
07. A Pilot Study to Examine the Tolerability and Device Preference in Type 1 Diabetes of Insulin Apart Administered by InsuJet™ Compared with Subcutaneous Injection. Diabetes Technology & Therapeutics, 2014.
08. See medical deck Cost Analysis - North America, 2022 available on the Partner page.
09. Calculated at 4 injections a day with a hypodermic needle. 4 injection a day, every day of the year, adds up to 1,460 needles a year saved from use.   
*. The InsuJet™ is calibrated for U-100 insulins
**. Needle gauge 26-27 is commonly used for subcutaneous injections and is around 0.40 - 0.45mm in diameter. The orifice of the InsuJet™ Nozzle is about 0.15mm in diameter which is much smaller than conventional needle gauges used for subcutaneous insulin injections.
***. https://pubmed.ncbi.nlm.nih.gov PMID:18820853